Buying Disc Brakes For The Mustang
Time For Installing New Brakes

Well its finally time to get the wheels back underneath my old

1969 Ford Mustang

so I took the rotors that've been sitting for the better part of a decade and took them down to the local parts house to have them turned. No dice as I was afraid they've run their course and need replacement. My dad also informed me that I need new calipers as well so its time to locate the parts. As I said before my Mustang came with front drum brakes and in order to have disc at an affordable price we took the front disc setup off a burnt up

1977 Ford Granada

since they hook right up to my equipment. I did some research on the cost comparison of Disc for Mustang vs. Disc for Granada just for the knowledge and thought I'd share with everyone else. I'm going to list most affordable options...

Cheap Mustang Brakes = Ford Granada Parts

Auto Zone $120 for Granada parts

Front Brake Rotors - $39 each. 2 year limited warranty
Front Brake Calipers - $14 each
Front Brake Pads - $14 set

Auto Zone $247 for Mustang parts

Front Rotors - $93 each. 2 year limited warranty
Front Calipers loaded - $61 pair. limited lifetime warranty ($21 core)

Oreilly Auto $152.00 for Granada parts

Front Rotors - $39 1 year limited warranty
Front Calipers loaded $37 each ($5 core)

Oreilly Auto $268.00 for Mustang parts

Front Rotors - $97 each. limited lifetime warranty
Front Calipers loaded $37 each. limited lifetime warranty($20 core)
Mustang Disc Brake Setup?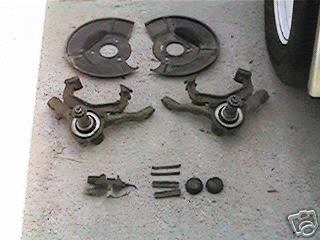 Wrong, this is what you need off a Granada to convert. Of course you need the brake calipers, brake pads and rotors as well. Don't forget the disc brake proportioning valve. An example of those parts are here....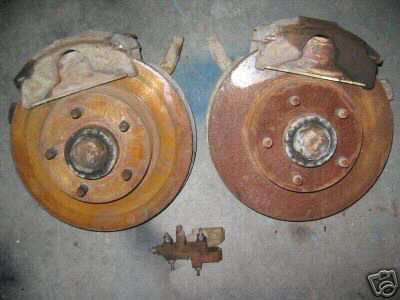 Tip: Buy your brake calipers seperate and unloaded
Above I listed the parts for competitors to Autozone loaded. When I went to Autozone to pick up the parts(they were cheapest) I saw that buying the calipers seperate and unloaded was a cheaper way to go. You may also want to call ahead and have the Autozone ahead of time and have them order the parts over from their other locations because chances are they won't have everything you need in stock.
Mustang Restoration Shops
The prices are comparable with those of the big chains for Mustang parts and actually a little cheaper but after shipping you'll probably pay the same or a little mroe. So unless they're in the area you may just want to go with the local auto store. Laurel Mountain Mustang had the parts for about $220 but after shipping it'd most likely cost more than the Mustang parts at Auto Zone.
Find an Old Granada
They're out there and basically a big ugly rusting Mustang front brake conversion kit just waiting on you to go pull the parts. After you've converted and you need parts down the road they're much cheaper as you can see above. It all just depends on what you're trying to do with your car. Mine stopped just fine with the Granada parts and I was more than just a little heavy in the foot area!
Cool article on Installing Disc/Power Brakes
A Classic Mustang disc brake conversion
article was recently posted at Mustang Monthly. Pretty darn cool.
-Jerry Odom, April 18, 2006