Jambalaya Recipe
Louisiana Recipe from my Grandfather

My grandfather cooks some of the best Jambalaya I've ever had. Thats saying alot being that I'm from the Jambalaya capitol of world in

Gonzales, Louisiana

. Cooking jambalaya is an art, a past time and a big part of our heritage so most people learn to do it at some point in their life. Most everyone does it a little differently but the only thing that we have in common is an agreement that it isn't jambalaya unless its done in a

cast iron pot

or dutch oven. This is my grandfathers simple recipe that he's been cooking for probably 50 years. He's been living out around Gonzales since it was mostly swamp and dirt roads. He's about as authentic Louisiana as it gets. I love hanging out with him and watching him cook it. He tells all his old stories about the Navy, how hard it was for him to win my 100% cajun french grandmother because they didn't like non-Frenchmen dating their women, drinks his high balls and tells me he could easily win the

Jambalaya Festival

but he's too old to worry about that. Its very good and easy with the secret to making it wonderful being cooking it over a wood fire.(of course a stove or gas flame works fine.) This recipe is for a small 8-10qt pot which will feed 8 people easily. You can double or triple it for bigger sizes.

Jambalaya Ingredients:

4 big yellow onions chopped fine
about 8 cups water.
4 cups rice
1 bell pepper - chopped
2-3 banana peppers - chopped - optional if you want a hot jambalaya
3-5 crushed garlic cloves
2 bundles green onions. - chopped
2 lbs hot sausage - chopped
1 whole chicken cut up or pork.
salt, pepper, red pepper, onion powder, whatever.(some people just use tonys but its a little too much salt for me)
Jambalaya cooking instructions:
Brown your sausage and chicke and put them on the side. Cook down your yellow onions & garlic constantly stirring.(add a little water if necessary so it doesn't get dry in the bottom of the pot) Don't burn them or the whole recipe is screwed. Once you've sauteed this mix way down you add in your meat and then your water.(add enough water to cover everything) Season to taste and cook everything until your meat is good and tender. About 15 minutes before you're going to add your rice put in the peppers and gren onions. Add rice and bring to simmer for 15 around minutes or until the rice looks to be getting cooked. Take a big spoon and turn the rice over once.(you only want to bring the bottom to the top) Leave over low heat until your water is all out and the rice is tender. You'll have your Jambalaya. Serve it with french bread, white beans and salad.
If you like pictures I took a bunch of pictures while I was cooking a jambalaya in the backyard over a wood fire. It shows the basics of the process, the ingredients and in general what you want it to look like. The pictures are numbered so you can see the order of the process.
Jambalaya Cooking Pictures
.
Thats my favorite
Jambalaya recipe
that seems to always work out. Somehow it always comes out a little different so its always like eating it the first time. Usually I don't even measure ingredients and just go by feel and that works out best. Of course you can
email me jambalaya questions
if you want or need to.
Jerry W Odom Jr.
Jambalaya Just Finished Cooking: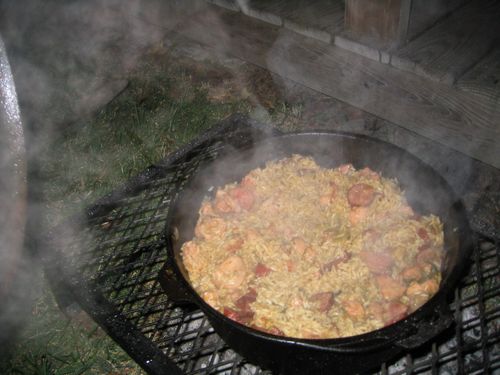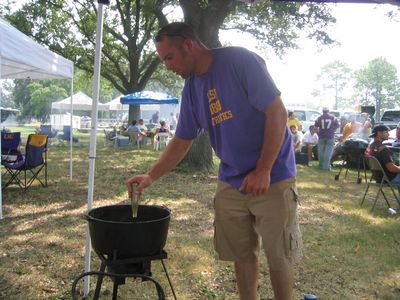 Jambalaya Cook At Work.(Brandon's brother at a tailgate party)