Finally Final Four LSU
And They're Still Hungry

What can I say about the 2005-2006 LSU season that hasn't been said in the last 48 hours? Amazing, High Flying, intense, hungry, young giant killers who aren't done yet. LSU made a statement this week loud, clear and above the rim that "We are the giants of NCAA college basketball and we will not be denied". Absolute inside domination of Texas whom everyone thought would roll over the Tigers and to put an exclamation on it outscoring them 38-10 in the paint.

LSU in Final Four:

LSU literally went out in overtime and took the game away from the Texas Longhorns. Both teams wanted it, both teams played very hard but if you were watching you saw Tyrus Thomas beating his chest and screaming with absolute and total intensity. Glen Davis went absolutely insane hitting a 3 pointer to all but steal the souls of the Texas team. Their will was greater than that of Texas and they imposed it to win a close game by 10 points!

LSU Tigers go from Big Babies to Giants

Throughout the 2005-2006 season LSU's face has been that of the Big Baby. They've been looked at as just that too, big babies. Young freshmen and softmores with nice personalities and alot to offer but not given the credit they deserve as a team to be feared and respected. After defeating Texas A&M, Duke and now Texas LSU is the team to beat. UCLA players have already expressed their feelings about the high flying Tiger giants as "human fly swatting machines". They fear LSU and rightfully so at the sight of the huge numbers put up and the intensity of this squad going into the final four!
Tyrus "Intensity" Thomas
Tyrus is an absolute tyrannosaurus on the basketball court! After a few dunks and shot blocks he was going absolutely insane on the court and I couldn't take my eyes off him! I absolutely idolize that sort of passion, intensity and will to win in a person and when they're out there dominating you have to love them. Tyrus's closing comments during the post game interview made me and most everyone wonder if the Tigers could be denied this tournament?
``We're still hungry, we're not satisfied with what we've done,'' LSU's Tyrus Thomas said in an interview with CBS Sports. ``We've got a lot to prove.''
Big Baby Glen Davis was equally vocal that the LSU Fighting Tigers aren't going to be happy until they're cutting down the nets at the end. I don't know if there's a team in the country who could step out on the court with these giants and not be intimidated?
We see this guy:

Other team's players see: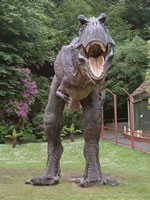 Geaux Tigers!!...Jerry W Odom Jr. March 26, 2006
NCAA Final Four Articles