PRODUCTION:
1969 - 72458 built

1970 - 40970 built


As popular as the Mustang was, it wasn't much of a street racer. The big 390 V-8 introduced in 1967, was a step in the right direction, but the 390 wasn't much of a match against the Chevrolet 396 V-8 in the Camaro or even the 400 V-8 in the Firebird. If you wanted a fast Mustang, you'd have to go to a much more expensive
Shelby Mustang
, which was equipped with the 428 V-8.
Late in the 1968 model year, Ford introduced the 428CJ engine on a small group of Mustang GTs. This was a strong performer and pointed to the direction that the 1969 Mustang would take. However, "GT" wasn't a name that would initiate images of street screeching performance. Ford decided upon the Mach 1, with the supersonic connotations.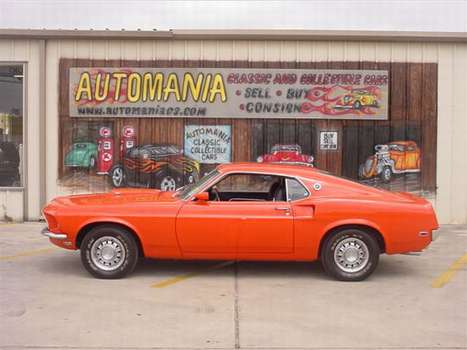 Even though the GT was still available in 1969, the Mach 1 took its place as the performance Mustang. It was based on the SportsRoof body and came with a long list of standard features. Visually, the hood was painted flat black along with a similarly painted non-functional hood scoop. Reflective side and rear stripes were coordinated to complement the body color, as were the color keyed dual racing mirrors. Adding to the racer image were the NASCAR hood pin latches- a deleteable option. Chrome styled steel wheels and a chrome pop-open gas cap were also used. The attractive Deluxe Decor Group filled out the interior. It included the high back bucket seats, a rim-blow steering wheel. sculptured door panels, console, additional sound deadener and plenty of simulated wood appliques. It was an attractive interior, befitting the image of the Mach 1.