1969 Ford Mustang Mach 1
Restoration of a Classic Ford Mustang

My

classic Ford Mustang

fascination started when I was about 16. I went with some friends to a party and saw this old blue car

1969 Ford Mustang

just sitting back behind the house we were at.

Taking a look at it closer I decided this was definitely me so I asked the host of the party who it was for and whether or not it was for sale. He said that it was for sale by his brother and the asking price was $700.

After talking with my father a bit he agreed to getting ahold of this old car and we drug it back to our shop where he proceeded to get it running the very next day. A very powerful and incredibly fast car especially considering it had been sitting out rusting for a year or so. Much to my delight my dad had the car running the day we purchased it. The engine was a monster and way too much for me to comprehend at my age and experience. It had a 351W 4V(not sure of its originality) which had been geared up for nothing but hot rodding and racing. My father predicted I'd kill myself in the car but the engine died before I had a chance. The 351 was replaced with a low compression 302 out of a 1969 fastback parts car we had picked up from one of my fathers buddies. I drove the car for a couple of years and then had to put it up due to structural damage in the drivers side shock tower. Restoration was intended but put off for 6 years until about 3-6 months ago.

In the beginning of 2002 I decided it was time to at least make the old Mustang roadworthy again. My father, brother and I got together all of our mustang parts and started to tear down and repair the front frame damage. Presently the project is moving along at an off/on pace and the car is expected to be drivable sometime in the near future.

As of 2008 my Mustang project has been on/off. Progress has been minimal due to having to build a shop and move my car from my Dad's house. The biggest problem has been getting what I need to do the body work. I have a new welder but have yet to get the electric in my home working without throwing a breaker. I've also brought my 351 Windsor engine home and confirmed it was the original 1969 motor. Pretty cool. I should be done with the car by the time I'm 40.
As of 2010 my Mustang project has been mostly off though I've worked on a part of the body here and there but not anything over a couple of hours. As detailed in my
Ford Mustang 2010
post family has really put the project on the back burner.
My Classic Mustang Mach 1 Originally:
351 Windsor 2V
FMX transmission
Non-locking rear axle
Pastel Grey Paint
Power steering
Black Mach 1 seats
14 inch tires
The Mustang Restoration Project
(From 2006 on):
Starting in late 2005 I've been bolting on parts regularly and really getting the front of my car back together. I've re-organized this webpage to be a staging area for others to find the pages on my site. I'm making entries on my
1969 Mustang restoration page
and post some cool videos on the project at my
Mustang Video Blog
. This page tells you the basics about my project so look around for information on problems I've gotten over and what I'm facing now in restoring my classic Mustang.
Mustang body parts
replaced due to damage from age or battery acid:
drivers side inner shock tower - from parts car - $0 (done)
passenger side battery fender apron $100 (done)
passenger side front frame rail extension. innter/outer $50/$28 (done)
lower radiator strut rod brackets $45 x 2 (done)
front cross member $40 (done)
radiator core support. $150 (done)
Quarter panel patches to both sides.
lower door patches or possibly new doors.
the floor pans have to go all the way around.
new gas tank for the Mustang. Beat up bad
I have the following original 69 Mustang body parts:
6 original doors. All would require moderate patching.
6 original fenders all in fairly good condition.
2 trunk lids
3 Mustang hoods. All not too hot. 1 was cut by previous owner, 1 without the induction hood, 1 which is banged up pretty bad.
all perfect original wire harnesses from my parts car.
original perfect grill and headlight assembly. Will require some new chrome.
Lower valence for ront end.
Pre Restoration Classic Mustang Pics
probably around 2001: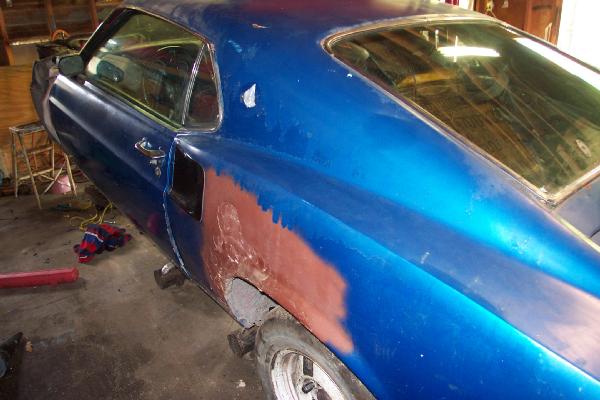 Pictures with the
New Mustang Parts
Attached:


1969 Mustang Pages & Sites:
Jerry Odom's Video Blog
- I have some videos of us putting parts on my Mustang and commentary on whats going on with the project.
Older Mustang Journal I
- My original entries since 2002 concerning updates on my car. They were too unorganized for this page so I moved them to an archive page.
Older Mustang Journal II
- I started a second page for my journals when the first was too crowded.
American Muscle
- My thoughts on the late-model Mustang company I came across looking for accessories for our 2007 Roush.
North Coast Mustang
-Specializing in 64 1/2 - 2005 Ford Mustang N.O.S., reproduction, and used parts. Great place to buy New and used classic Mustang parts.
69 Mustang Restoration Process
- Great details on a restoration process.
A 1969 Ford Mustang Mach 1
- Nice pictures of a beautiful restored car.
1969 Mustang Codes
- Find out what your car originally came equipped with.
Mach 1 History
- History and facts on the
1969-1970 Ford Mustang
Mach 1.
Classic Car Restorations
- In light of my recent efforts(2003-2005) to rebuild my Mustang I wrote about my respect level for people who restore old cars. Its tough!
Mach 1 Registry
- The history of the Mustang Mach 1 and pictures of cars from 1969 to the 2003.
Modded Mustangs
- A community of Mustang enthusiasts who focus on modified high performance cars.
Modest Prediction:
My car will look like its original form when finished but it will be pastel grey. If anyone has a picture of a pastel grey Mach 1 I would appreciate it being sent to me.
All Original 1969 Ford Mustang Mach 1 - sweet.